Links
Restoration
The My Little Pony Preservation Project
I absolutely love this site. The owner's tone and passion reminds me of a friend of mine. It's a great starting point for anyone, and has brilliantly helpful advice or links to pretty much any query I've had so far. I spend hours looking at her restoration/collection page.
Ponyland Press
First of all, this is a great resource site, for everything pony-related, such as identification, restoration, etc., but the thing I really love is the pictures. Check out "Our Pony Town" and look at all the pictures that have been so carefully shot. It's absolutely lovely. You'll want to invite yourself and your ponies over to play in their town.
---
Tutorials
~MNN's Yarn Perfume Puff Rehair Tutorial~[Picture Heavy]
PHOTO TUTORIAL -- Yarn fiber rehairing! [VERY pic heavy!!] by SilkSpun
Body Cleaning at the MLP Preservation Project This page alone covers: Body Part Repair, Pony Cancer/Age Spots, Cleaning Tips, Dyeing, Head Removal, Highlighter Marks, Microorganisms, Plasticiser Leakage, Pony Pimples , Regrind, Rust: Cleaning, Glitter Stains Sea Pony Weights, Smooze, So Soft Ponies: Cleaning, De-Flocking, Re-Flocking, Stain Removal: Cleaning, Sunfading, Creams, Warping, Yellowing. You really can't go wrong with this site in general.
Re-rooting Video Tutorials at MyLittleCustoms.com.
Shadowlark's Cleaning/Restoration Thread (PIC HEAVY) Not a tutorial, but very very satisfying to look at.
---
Shopping (Hair, Flocking, Replacement Wings, etc)
RetroDolls.uk
This is my go-to store. While the others have exact matches for hair, they're also either out of stock every time I try to buy, or the shipping costs (USA to UK) are a bit hefty for what I need at the time. I like this store, they deliver promptly and I don't believe they've ever been out of stock of what I need.
MyLittleCustoms.co.uk
I also love this store. They do have exact matches for hair, but every time I want to buy, the most desirable items are out of stock. Nine times out of ten I can't get what I need. When I do shop with them, it's a very good service, and their product is great.
DollyHair.com
Also has exact matches for hair, and is usually well-stocked. Since I'm in the UK and they're in the USA though, I don't often use them.
Replacement Summer Wings
I plan on ordering three sets of these for my summer wing ponies that have lost their originals.
---
Shopping (Ponies)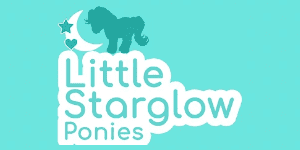 Little Starglow Ponies
This is my favourite online shop. Having met the owners at PonyCon, I'm an even bigger fan. The photos are gorgeous and the customer service is amazing. You will not regret any purchase from here.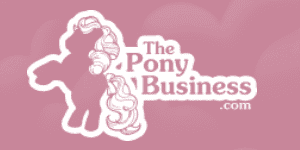 The Pony Business
I love The Pony Business. I have bought a good few Nirvanas from here over the years, and the quality is *chef's kiss*. I always spend a fortune on them at PonyCon too. Amazing.
I've purchased from all of these sellers on eBay, and the experience has always been good – these sellers tend to have high quality merchandise. In fact, I'm fairly certain one or two of them actually own portals back to the 80s to get such lovely ponies.
rosashton2012 • *sarahbee* • babydoll84_uk • gemsponytreasure • jazzy-magic • mangoflavorcm (G4)
---
Identification
StrawberryReef.com
This site is a godsend. I tend to use it for Gen 3s rather than Gen 1s, because it's so easy to figure out which version of a pony I have. (Thanks, G3 for re-releasing the same ponies multiple times!) The site lets you browse by various options, making it easier to find the name of a pony.
My Little Wiki
This site I use for all the extra data that it would never occur to me to find, such as year of release, what set they are in, etc. A fountain of knowledge.
---
Forums
The MLP Arena
I have lost the ability to socialise online, but I lurk on this forum, and it's a really nice place. Everyone seems very friendly, and I love seeing everyone's brag posts. It's like Pinterest, except you care about every photo in front of you.
My Little Pony Trading Post
I believe I'm registered on this site, but I prefer to do my purchasing of ponies on eBay. Still, I've heard nothing but good things about it, so it's worth a link.
---
Customs
Aikarin.com
Really helpful site that gives a lot of help if you want to dip your toes into the customising pond.
PandaBear at DeviantArt
I love this lady and everything she does. I commissioned a Daddy and Big Brother Strawberry Fair from her. Not only do they look Hasbro factory good, but she kept me updated with pics as she went. If you want to commission a custom, I heartily recommend her. She's worth every penny. She's utterly talented, very hard working and really nice to deal with.
---
Fanlistings